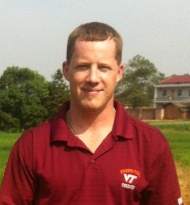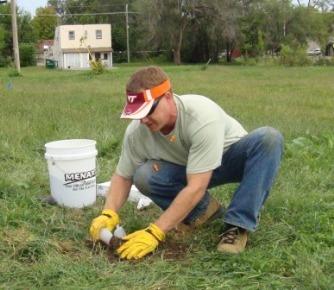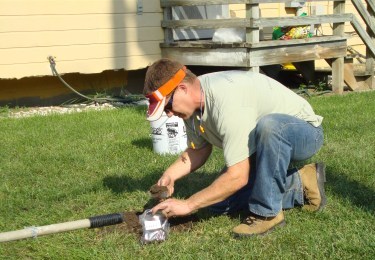 Soil Biogeochemistry
I investigate on the living plants and microbes in the dirt change the soil chemistry of toxic metals and nutrients.
Brad Miller
Post Doctoral Fellow/Soil Chemist
ORISE/US EPA
Government

I consider myself a: Soil Scientist
My Highest Degree: Doctorate
I received my degrees from: BS - Mount Olive College, NC MS - Appalachian State University, NC PhD - Virginia Tech, VA
I received my degree(s) in: BS - Biology Minors: Chemistry, Photography MS - Biology (studied ectomycorrhiza) PhD - Forestry (Soil Science, Phosphorus)
Length of Career: I have been working as a Soil Biogeochemist for 16 years, beginning when I was 19 yrs old. I have always been interested in learning about how our rivers and lakes become polluted. Many times the pollution comes from the soil and that's what I have studied since my first years in college.
What was your career path to your current position?
I recently finished my PhD and now work as a Post Doc for the United States Environmental Protection Agency.
What projects are you working on now? What interesting projects have you worked on/led in the past?
I am currently working on the use of green chemistry for preventing the toxic effects of lead and arsenic in soils on children and adults. I am also working on how fungi change the chemistry of arsenic in soils.
What do you find most interesting about your work (either currently or a story of a past experience)?
What I love about my work learning how previous pollution in soils may be affecting the soil ecology, and it potential to affect human health. Additionally, I use a particle accelerator to learn about the different types of toxic elements in soils.
What do you like best about your job and/or what do you like best about being in your profession?
I love the variety of work in my current job and working as a civil servant for the people of the United States in the Environmental Protection Agency.
What's the one thing you would change about your job/profession that would make it better?
I would like to extend the amount of time and funding we scientist have to set up and follow research projects.
What would you say to someone thinking about entering the profession? What advice would you give for succeeding in this field?
I would highly encourage students to get a broad and diverse education as undergraduate students, and to be actively involved and passionate in the projects you choose as a student and scientist. Also, being volunteering in your local community teaching about how soils affect human health. This real world experience will help educate the public and boost your own confidence as a soil scientist.
What do you like doing in your free time?
In my free time I enjoy doing long distance bike races (100-200 mile races), play soccer, backpacking, and spending time with my children.
If you have more questions about my career, feel free to contact me at:

Brad Miller
Post Doctorate Fellow
ORISE/US EPA
Denver, CO
US- EPA (Environmental Protection Agency)
303-462-9150
miller.bradleyw@epa.gov