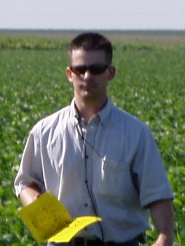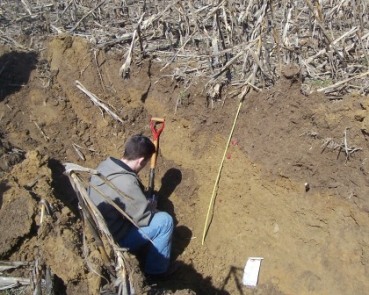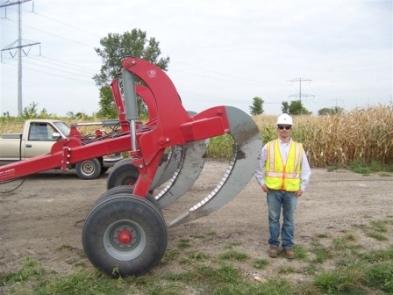 Consulting Soil Scientist/Agronomist
As a consulting soil scientist/agronomist I work to prevent, solve and correct issues associated with soils and plant growth in the industries of production agriculture, mining, oil and gas exploration and transportation and private lands.
Matt Duncan
Agronomy Services Manager
Crop Production Services, Inc.
Industry/Consulting

I consider myself a: Soil Scientist
My Highest Degree: Master's Degree
I received my degrees from: BS – University of Illinois at Urbana-Champaign MS – Purdue University in Lafayette, IN My degrees are in soil science.
I have the following Certification(s):
I chose to become certified because: Certification provides employers, clients and farmers a quick and easy way to know you have a particular level of knowledge, understanding and education. It is also important when issues are brought into the legal system to establish yourself as an expert.
Length of Career: 14 years, since 1998
What was your career path to your current position?
While in college, over the summer breaks, I worked in a soil testing laboratory as a technician and as a crop scout identifying crop pests in the field. After college I became a research agronomist and started and ran a 300 acre agricultural research farm testing product effectiveness and conducting training and education tours for farmers and ag retail salesmen. I then moved into the seed industry as a technical agronomist. For the last half of my career I have been working as a technical soil scientist assisting agencies and industry in protecting agricultural lands during energy industry construction projects such as interstate oil and gas pipeline construction.
What projects are you working on now? What interesting projects have you worked on/led in the past?
One of the more unique projects I have worked on in the past was in New Jersey. The soils this construction project crossed included acid producing soils (APS). These are soils that, when exposed to air and moisture produce sulfuric acid! The challenge was the soil had to be dug up to remove and replace a gas pipeline that passed through farmland, streams and woods. Special testing, handling, and storage procedures had to be created to manage the soil. I currently work with a large agricultural retailer to educate and train salesmen and agronomists.
What do you find most interesting about your work (either currently or a story of a past experience)?
I most enjoy the challenge of determining the cause of an issue and then creating viable solution options to correct the problem. I also enjoy working as an expert witness. Soil science is an incredibly complex science that includes aspects of practically all the sciences. If you really focus on your career, learn the science well, and always strive to continue learning, you will be an expert in a field that not many people really understand.
What do you like best about your job and/or what do you like best about being in your profession?
I enjoy working with people from a wide range of backgrounds (farmers, engineers, geologists, government agencies, biologist, crop consultants and so on) and the challenge of getting them to understand the importance of soil and soil management and its influence on plant growth, food production and a healthy environment.
What's the one thing you would change about your job/profession that would make it better?
I really don't know what I would change. Soil science is actually a very dynamic profession. I get to travel throughout the country for projects, I get to work both in the field and in the office so neither becomes old, I get to meet and work with people from a wide range of backgrounds and each issue or project is just different enough always offer up a challenge in one form of another.
What would you say to someone thinking about entering the profession? What advice would you give for succeeding in this field?
First, remember that all the sciences (chemistry, biology, physics) as well as some math and writing skills are important to any science based field, especially soils. Next, pick a good college, one with not only soils classes, but with Soil Science as a degree major. When you look for summer jobs prior to graduating college try to find something that relates to soils. And finally, be willing to work your way up; don't assume you are entitled to anything. A good education and attitude are the foundation, but you will still need to prove you deserve the job, promotion or raise through your actions and successes.
What do you like doing in your free time?
I have always enjoyed fishing during my free time. I find it to be both relaxing and exciting (when they are biting).
If you have more questions about my career, feel free to contact me at:

Matt Duncan
Soil Scientist/ Agronomist
Crop Production Services, Inc.
Macomb, IL
Crop Production Services, Inc.
309-333-0535
Matthew.Duncan@cpsagu.com