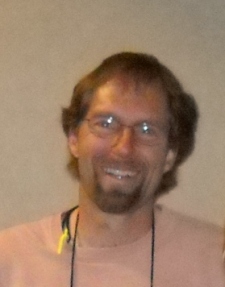 Dr. Dirt
Hungry, Homeless, and Breathless
Clay Robinson
Senior Soil Scientist
Illinois State University
Industry/Consulting

I consider myself a: Soil Scientist
My Highest Degree: Doctorate
I received my degree(s) in: General Agriculture, BS, 1984, West Texas State University Plant Science, MS, 1988, West Texas State University Soil Science, PhD, 1993, Iowa State University
I have the following Certification(s):
I chose to become certified because: I am a Certified Professional Soil Scientist. I had two motivations for certification: 1. Providing an example of professionalism to my students, and 2. Open the door for consulting opportunities My certification, and also my Texas Professional Geoscientist license were requirements for the position I now have in the consulting industry.
Length of Career: I have been an agronomist since 1984, and a soil scientist since I began my doctoral work in 1988.
What was your career path to your current position?
I had an internship with a seed company, then was a research technician in a triticale breeding program. After my masters' and doctorate degrees, I worked at small, regional institutions with agriculture programs for nineteen years, teaching courses, advising graduate students, and doing research. My work coaching soils teams, evaluating and describing soil profiles, provided the background for my current position.
What projects are you working on now? What interesting projects have you worked on/led in the past?
We do irrigated land suitability assessments, salinity assessment and management for irrigated agriculture, revegetation plans for revegetation after forest fires, and environmental work related to topsoil and mine reclamation.
I worked with the Dryland Agriculture Institute for seven years, hosting an International Dryland Agriculture Workshop and Tour that covered about 3200 miles (5000 km) in five states in the semiarid Southern Great Plains to look at crop, tillage and livestock systems, with people from more than thirty countries.
I traveled to China, Japan, and Mexico to study soil and crop production systems.
While doing K-5 outreach at West Texas A&M University, I patterned my "Dr. Dirt" persona after Bill Nye: The Science Guy. I gave presentations on the importance of soil and conservation to more than 20,000 K-5 students, and developed a website with soil activities for teachers and students
What do you find most interesting about your work (either currently or a story of a past experience)?
Soils form through the influence of time and climate on parent materials, landscapes and organisms that live on them. Wherever I go, soils are unique and fascinating. Because of these differences, cropping and management systems are different, as well. I enjoy studying soils all through the United States and around the world to learn how to manage soils for long-term productivity and sustainability. Too often, we seek short-term benefits that have long-term consequences.
What do you like best about your job and/or what do you like best about being in your profession?
I always enjoyed nature and travel, hiking, exploring and learning about new places. My training as a soil scientist gave me a greater ability to appreciate what I see wherever I travel (except in cities). As a soil scientist and agronomist, I help people think about environmental stewardship and environmentally and economically sustainable food production systems.
What's the one thing you would change about your job/profession that would make it better?
I could not relate to most of my students, nor could I understand how to motivate them to learn. This led to a great deal of pressure from administrators and personal stress. I focused on content and teaching methods, while my students were focused on interpersonal relationships. I needed mentoring on how to bridge that gap. My current job deals with only a few people, rather than more than 100 each semester, and is much less stressful for me.
What would you say to someone thinking about entering the profession? What advice would you give for succeeding in this field?
The demand for agronomists and soil scientists, especially at the bachelor's level, is greater than the supply of graduates. These careers are both challenging and rewarding. Pay attention in your science and math courses in school; learn all you can. Math and science are the foundation for college courses in agronomy and soils. Be curious. Ask questions. Learn how to "play well with others."
What do you like doing in your free time?
It was probably my approach to my career at the university, but I had little free time. I have much more now. My wife and four children are important to me, but I fear I sometimes gave more of myself to my career than to them. I enjoy riding bikes on or off the road, hiking, camping, and photographing nature, especially sunrises and sunsets. I play guitar and am on a worship team. I have rediscovered reading for pleasure. I have started painting landscapes using only soil to make the colors.
Finally, my faith is the motivation that causes me to pursue excellence in all things. Though I often fail, Philippians 1:21 from the Bible is my goal, "For to me, to live is Christ, …"
If you have more questions about my career, feel free to contact me at:

Clay Robinson
Associate Professor of Soil Science
Illinois State University
Bloomington, IL
Illinois State University
8062365956
c.drdirt.robinson@gmail.com